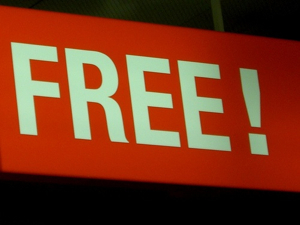 Hello!
Seems you're new here. Welcome!

I hope you'll find my site useful. Like to stay on top of the latest marketing and copywriting information from MarketCopywriter? Get updates now.
The idea that writers should work for free rubs me the wrong way.
Even when I was a starving playwright working in regional and off-off Broadway theater, I got a stipend.
Later when I started writing commercially, I approached copywriting as craft. It never occurred to me to write for free. Payment was the whole point of working for clients.
Yet hard-nosed as I am about getting paid to write, I sometimes give away my work.
What's more, I boldly suggest you do the same. But only on a handful of occasions.
5 instances when you should write for free
When should you think about pouring time, energy, blood, sweat and tears into a copy project—for free? I propose these 5 instances…
As a donation to a non-profit organization that grabs your heart and soul. I don't suggest you donate copy to any and all worthy causes—you'd be working without pay indefinitely. But sometimes a non-profit organization pulls at your heart strings, compelling you to involve yourself. Maybe you know the charity's founders. Or you feel their work genuinely makes a difference in the world. Or it memorializes someone you love. Then you discover the organization needs promotional or fundraising copy. Should you write it for them? Maybe. Here's my litmus test: I ask myself if I would gladly give them a cash donation equivalent to the estimated time it will take me to create the copy. The truth? Usually, "No." But occasionally I take on a charitable "labor of love." And I put the same time and effort into it as I do for full-paying client work. Check out my website content for Connecticut Quest for Peace, a Nicaraguan NGO founded by my friends, Randy and Linda Klein. I wrote most of the site copy gratis.
For barter. As a professional copywriter, sooner or later someone will ask you to trade his product for yours. Proceed with caution. Barter works well only when you exchange your labor for something you really want and need—probably something for which you already pay cold, hard cash. So while someone else may find genuine value in kayaking lessons, energy healing or a water filter, if you're not paying for these things now, chances are you don't want to trade your copy for them. But a gym membership, medical services or a child's private school tuition would—for me—be win-win barters.
As self promotion. Like the cobbler whose child went to school barefoot, you may be so busy working for clients you neglect your own marketing content. Don't. Remember the marketing wisdom you pass on to clients: A customer-focused blog drives traffic and builds community. Useful articles position services, add credibility and generate leads. These marketing axioms work for you, too. So when you spend time creating solid self-marketing materials, don't consider it a giveaway. It's an investment with measurable returns.
When a family member or friend needs help—and you can do it in your sleep. Your husband's blog post is crying out for editing. Your best friend needs a resume and cover letter. Your neighbor asks you to "take a look" at her Chamber of Commerce speech. Should you do it? When the work is easy and familiar to you, when it's more about editing than from-scratch content creation, and—most importantly—when you genuinely have free time, I say yes.
As a portfolio enhancer. You want to break into a lucrative new industry or master an unfamiliar copy format. But without a track record and portfolio samples, who will hire you? Under these rare circumstances, you may want to create copy for free. Especially when #4 applies—the person asking the favor is a friend or family member. And when you feel assured the project will be beautifully produced, so you end up with a winner for your portfolio.

Is it ever okay to write copy for free?

What do you think? Do you ever work for free? Under what circumstances?

"Free" photo courtesy of klabusta