Feeling a little pressed this holiday season? December can be a stressful month for freelance writers who face end-of-year deadlines—along with the usual seasonal to-do lists and holiday preparations.
Like to steer clear of holiday gift-giving panic?
I can relate. I'm determined to avoid spending my limited free time listening to The Little Drummer Boy in department store queues or holding the phone for customer service. This year our family agreed we'll focus less on buying stuff and more on enjoying time with each other.
Not that we're abandoning gift-giving altogether. We're buying fewer things and choosing them with care.
Perhaps you feel similarly? If so, you'll appreciate the edited list of 12 Great Holiday Gifts for Copywriters below. One of these items is sure to please the discerning, wordy, reclusive-but-lovable writer in your life.
In the spirit of the times, most of the following gifts ring up well under $50. And one costs nothing but your time.
12 Great Holiday Gifts for Copywriters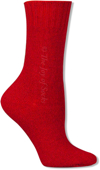 1. Cashmere socks. Writers often get cold feet when pressed to write hot copy. Warm your writer friend's toes and get his creative juices flowing with a pair of luxurious, kitten-soft cashmere socks. Available for men and women in an array of holiday colors.
Price: $13-$28
Where to buy: Joy of Socks stocks a huge line of well-priced luxury socks for women and men. Free shipping on all orders—even one pair of socks!
2. Stationery. In an era of email, tweets and instant messaging, nothing makes a more thoughtful statement than a handwritten note. Reacquaint your writer friend with her epistolary talents: Give her a box of quality stationery. Choose reasonably-priced personalized cards—or splurge on Thornwillow's almost-too-beautiful-to-use engraved notes on heavy handmade stock. I'm wild for Thormwillow's "Birds and Beasts" engraved notes, especially Butterfly.
Price: $20-$50
Where to buy: For well-priced, personalized stationery, try American Stationery. For gorgeous luxury correspondence cards, visit Thornwillow.

3. Tea. Caffeine: The sine qua non for deadline-driven writers. We rely on it as fuel, propellant, companion and muse-mover. But caffeine is more than coffee. While coffee is great for a morning rev, afternoons call for more balanced and sustained energy: tea. This fragrant beverage comes in hundreds of varieties. I like Assam, English Breakfast and Paris—this last tea is a special blend from Harney & Sons. On a budget? Lipton Loose Tea is also divine. Yes, please buy loose tea. Tea bags—no matter how fancy or fancily priced—never deliver full tea flavor. And they impart an odd papery aftertaste. More to the point, I'm convinced tea bags don't yield the same amount of vivifying caffeine as loose tea.
Price: $5-$30
Where to buy: For fine specialty teas, visit Harney and Sons; Lipton Loose Tea is sold at most supermarkets.

4. China teacup and saucer. Once your copywriter pal is hooked on tea, he'll likely embrace some of its agreeable rituals and accessories. Esthetic-sensitive writers appreciate a proper cup and saucer for their Earl Grey and chai. Hunt thrift shops or choose one of these terrific jumbo teacups from Roy Kirkham, left. They come in a wide selection to please any and all tastes.
Price: $5-$33
Where to buy: Roy Kirkham Jumbo tea cups sold at Distinctive Decor; vintage tea cups and saucers sold at thrift stores, attic sales and eBay.

5. Gift certificate to local coffee house. Okay, if your writing friend or family member is a die-hard coffee fanatic, just give her what she wants. But not Starbucks. Gift her with a better brewed coffee or specialty drink from a local café. Feel-good bonus: You're supporting a small business.
Price: $10-$20
Where to buy: Use online search to find a local coffee house near you.

6. Escape book. Bet you a buck your copywriter was a bookworm as a child. But today he bears a shameful secret: He doesn't read any more. Yes, he reads trade-related blogs and business books. But he doesn't read for pleasure. He's too damn busy churning out copy, cajoling clients and keeping up with the blogging Joneses. This depresses him. So brighten his holidays and remind him of reading's joys with a delectable non-business book. Which one? Ask for suggestions—I guarantee he has a wanna-read list. And it's a long list, so whatever you select will be a surprise. My must-read books—hint to family—includes White Teeth by Zadie Smith, Tropic of Cancer by Henry Miller and Infinite Jest by David Foster Wallace.
Price: $15-$25
Where to buy: Your local book store, Amazon or for out-of-print books, try Powells.

7. Jump rope. If your friend is a typical freelancer, she's put on a few pounds since starting full-time writing/blogging. Between client-imposed deadlines and self-imposed OCD work habits, writers tend to sit inert for long periods of time. My solution? A jump rope. I'm no Rocky Balboa, but I try to intersperse my workday with a few rope-jumping mini-breaks. And I do mean mini: I skip rope for—wait—one minute. Go ahead and laugh. But that's all it takes to raise heart rate, get blood pumping and, hopefully, boot a few fat cells. Please don't regift your copywriter with that flimsy plastic rope from your daughter's party bag. You must buy a quality jump rope with a heavy leather cord. Feelin' strooooonger!
Price: $15
Where to buy: Everlast or Amazon.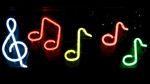 8. Custom playlist. Music playlists make the perfect gift for givers with more time than money. And they're a great treat for writers. But wait, you say, don't writers crave silence? Well, yes and no. Some writers actually need background music to help them segue into The Writing Zone. But even noise-averse copywriters like me appreciate music. The right tunes help us move through rote and non-writing tasks that make up a good part of the workday. Trust me, your copywriting friend or family member will love a new playlist.
Price: Your time.

9. Subscription to The New Yorker: The distracted lit lover's best friend. Even if your busy copywriter can't make it through Swann's Way, he can finish a Jhumpa Lahiri short story. Or snort over The New Yorker's classic cartoons before passing out for the night.
Price: $39.95
Where to buy: The New Yorker.

10. Museum, music or lecture subscription. Burnout, isolationism and writers' block are very real hazards for freelance writers. Art breaks are one of my favorite antidotes. Subscriptions—to great museums, concert and dance series or short story/poetry readings—provide restorative doses of art. These superb gifts give her weeks, months or even a full year of pleasure, inspiration and artistic refreshment. Plus you're supporting a non-profit arts organization.
Price: $70-$150
Where to buy: Use Google to find local museums and other cultural institutions. If the copywriter in your life happens to live in or near NYC, check out one of the City's most member-focused museums, the Guggenheim.

11. Skilz. While your copywriter friend writes words that sing, her creative expression is often stymied by a non-functioning nav button, or other technical aspects of blogging and digital media. Give her an hour—or more—of professional proofreading, coding, graphic design, virtual assistant, WordPress or website development consultation.
Price: $35-$300
Where to buy: If you use Twitter, ask your community for recommendations. Or check out lists of those you follow.

12. Ipad. Okay, total Santa/Chanukah Fairy/Magic Jin gift item. I know—the copywriter in your family insists he doesn't want an iPad. He'd like to wait for a second iteration. He'll buy later—when Steve Jobs cuts the price in half, like he did with the iPhone, yada, yada, yada. Of course he wants an iPad! But only if you win the Take Five Lottery.
Price: $499-$829
Where to buy: Apple.
Still can't find the right copywriterly gift?
Don't see anything you like on my list? Hop back to last year's MarketCopywriter Blog's 10 Best Holiday Gifts for Writers. I'm still dreaming about a few of those items, like the sound-canceling headphones…
International copywriters: Help!
Belatedly, I realized the US-centric nature of my list's where-to-buy suggestions. Can I get a hand from readers—some of you top international copywriters? Can you suggest where to buy in your country/region?
And everyone, please feel free to share your own right-for-writers gift ideas.
---
Photo credits:
Holiday gift photo courtesy of
mysza
;Café sign photo courtesy of
Duncan
;
White Teeth
photo courtesy of
Wikimedia
; Neon musical notes courtesy of
Jeremy Brooks
; New Yorker cover courtesy of
idogcow
; Guggenheim photo courtesy of
Picture Wendy
; New Yorker photo courtesy of
idogcow
.