Very likely you have favorite carols or holiday music that holds special meaning for you.
Me too.
But unfortunately, much of my favorite music is on scratched discs, tangled tapes and old vinyl…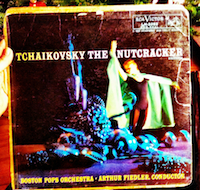 That's why I'm so enamored of Spotify. This streaming music service makes it easy to create playlists of old holiday favorites—and add almost unlimited new selections as well.
Spotify also lets you listen to songs on desktop or smart phone. And sharing music with Spotify is a breeze.
Take a look at my Huge Holiday Playlist, below. It includes over 200 tracks from Handel to Bobby Helms, Ella Fitzgerald to Elvis. Give it a listen on Spotify.
Not yet a Spotify member? Not to worry. I have a number of free Spotify memberships to give away. Just email me and I'll send you one.
MarketCopywriter Blog's Huge Holiday Playlist
My holiday playlist includes:
Traditional Choral Christmas Carols
Traditional Christmas Lullabies
Swing and Rock 'n Roll Christmas Music
Christmas Orchestral and Oratorial Music
Popular Chanukah Music
Classic Chanukah Music
A New Year Song
12th Night Songs and Wassails
Christmas Music
Traditional Choral Christmas Carols Playlist
Lo, How a Rose; Westminster Choir
Good King Wenceslas; Westminster Choir
The Holly and the Ivy; Westminster Choir
Hark the Harold Angel Sings; Westminster Choir
O Little Town of Bethlehem; Westminster Choir
O Come Emmanuel; Westminster Choir
It Came Upon a Midnight Clear; Westminster Choir
God Rest You Merry Gentlemen; Westminster Choir
In the Bleak Midwinter; Musica Sacra
The Friendly Beasts; Christmas Revels
Lullay My Liking; Christ Church Cathedral Choir
Carol of the Bells; John Williams
The First Nowell; Kings College Choir
Once in Royal David's City; Kings College Choir
O Come All Ye Faithful; Kings College Choir
While Shepherd's Watched; Kings College Choir
Angels From the Realms of Glory; Kings College Choir
Adam Lay Ybounden; Kings College Choir
Quem Pastores Laudevere; Kings College Choir
A Spotless Rose; Kings College Choir
Personent Hodie; Kings College Choir
In Dulci Jubilo; Kings College Choir
I Saw Three Ships; Kings College Choir
Away in a Manger; Kings College Choir
All My Heart This Night Rejoices; Kings College Choir
Ding Dong! Merrily on High; Stephen Cleobury
Riu,Riu, Chiu; Stephen Cleobury
The Lamb; Stephen Cleobury
Joy to the World! Stephen Cleobury
A Great and Mighty Wonder; Stephen Cleobury
Silent Night; Westminster Choir
Traditional Christmas Lullabies Playlist
What Child Is This; John Denver
Lullay My Liking; Kerfuffle
Mary Had A Baby; Odetta
Coventry Carol; Westminster Choir
Swing and Rock 'n Roll Christmas Music Playlist
White Christmas; Bing Crosby
Winter Wonderland; Tony Bennett
Santa Claus Is Comin' To Town; Frank Sinatra
Let It Snow! Let It Snow! Let It Snow! Frank Sinatra
Have Yourself a Merry Little Christmas; Ella Fitzgerald
Frosty the Snow Man; Ella Fitzgerald
Sleigh Ride; Ella Fitzgerald
Jingle Bells; Ella Fitzgerald
The Christmas Song (Merry Christmas To You); Nat King Cole
Silver Bells; Johnny Mathis
The Little Drummer Boy; Johnny Mathis
It's Beginning To Look A Lot Like Christmas; Johnny Mathis
A Marshmallow World; Johnny Mathis
It's The Most Wonderful Time Of The Year; Johnny Mathis
Silver Bells; John Denver
Santa Baby; Eartha Kitt
Jingle Bell Rock; Bobby Helms
Boogie Woogie Santa Claus; Patti Page
Little Saint Nick; The Beach Boys
I'll Be Home For Christmas; Elvis Presley
Here Comes Santa Claus; Elvis Presley
Blue Christmas; Elvis Presley
Santa Claus Is BackIn Town; Elvis Presley
Silver Bells; Elvis Presley
Christmas Orchestral and Oratorial Music Playlist
Handel: Messiah; The Academy of St. Martin in the Fields
Tchaikovsky: The Nutcracker; San Francisco Ballet Orchestra
Chanukah Music Playlist
Popular Chanukah Music
Oh Chanukah, Oh Chanukah; Neal Katz
Happy Joyous Hanuka; The Klezmatics
Spin Dreydl Spin; The Klezmatics
Honeyky Hanuka; The Klezmatics
Ale Brider; The Klezmatics
Latke Flip-Flip; The Klezmatics
Classic Chanukah Music
Handel: Judas Maccabaeus; The Vienna Academy Chorus


New Year Song
Auld Lang Syne; Dougie MacLean


12th Night Songs and Wassails Playlist
We Three Kings; Westminster Choir
Gower Wassail; Steeleye Span
Apple Tree Wassail; Song Jon Boden
Cornish Wassail Song; Jon Boden
Sugar Wassail; The Devil's Interval
The Wassail Song; Westminster Choir
Can Wassel (Wassail Song); Andrew Lawrence-King
Apple Tree Wassail; Shira Kammen
Malpas Wassail Song; The Watersons