Your brain is sloppy.
It doesn't think in lists and columns. It doesn't arrange memories taxonomically by date, time or place.
Humming along 24/7, your mind captures emotional and sensorial memories, thoughts, concepts, responsibilities and tasks.
It stores all this data in something more resembling a bowl of chunky minestrone soup than an Excel spread sheet.
And that's the trouble with most organizational systems. They force you to bend your brain to work the way they do—often within digital apps' code-based confines.
Your brain wants to be free.
No digital device or application can duplicate your mind's messy, elegant and intricate processes.
But Evernote comes close. Very close.
How Evernote helps you remember everything
Evernote is an organizational tool that works on your desktop and mobile platforms—your computer and cell phone.
It lets you bookmark, capture, organize, store and archive all the visual and text tidbits that bang at—and around—your brain all day.
This useful, free application has a loyal tribe of users who enjoy sharing their enthusiasm for the system.
Here are a few of my favorites ways to use Evernote.
Copywriter's Pick: 7 Evernote organizational tips
#1 Capture and save content. How do you cope with your daily deluge of indispensable information? With desktop bookmarking? Delicious? Digital organizational applications? Moleskine? Post-its? Yeah, I tried all those, too. But in the end I found it impossible to keep analog systems organized and connected. And, as mentioned, I found digital apps mentally coercive difficult.
But Evernote makes saving information easy and fun. The app's iconic elephant widget sits on my desktop linebar:





The elephantine Web Clipper waits patiently all day, ready to "remember" any and all of the stuff that ordinarily leaks through my sieve-like mind, including:
Online content. You can highlight text and photos—or save a whole webpage—and "clip" it to Evernote. Your clip is stored as a "Note" in "Notebooks" that you create and name. You can add searchable tags and edit Notes. And Evernote's software recognizes text in photos and other graphical images, making them easy to search and find:


Quicknotes. Evernote lets you create text notes of any length on your desktop or mobile phone. I use them for work, family and home organization. Here's the beginning of a Christmas shopping list:


# 2 Create to-do lists. If Evernote did nothing but store all that insanity pinging around my brain, it would be invaluable. But it does more. Ever so much more. I open it first thing in the morning to organize my day. My to-do lists have their own Notebook and I create a dated, daily to-do Note every morning: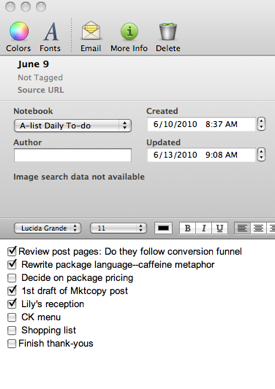 You'll love Evernote's formatting flexibility: You can number, bullet, italicize and bold text as well as change font sizes. You can right-, left- and center-justify text. And you can insert horizontal dividing lines, tables or—my favorite—check boxes. (What's more satisfying than checking off completed tasks?) The system lets you create two kinds of Notebooks:
Local Notebooks that stay on your desktop—great for privacy fanatics
Synchronized Notebooks that live online and can be accessed from desktop and mobile applications.
#3 Make recreational lists. Evernote helps me remember non-work related items as well. I make lists of things I want to do in my spare time (hahaha!), including:
Movies I want to see or rent
Museums, gallery shows and theater
Books I want to read: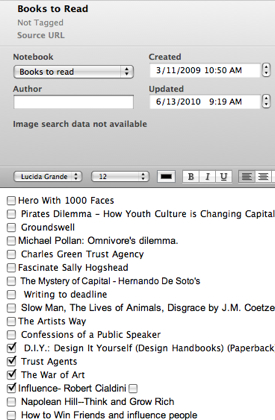 # 4 Organize projects. Try using Evernote for your next project. Start by creating a project Notebook. As you brainstorm and research, dump everything associated with the project into the Notebook—all those "brilliant concept" Notes, project-specific to-dos and resources. You can easily add clips of digital text, webpages and blog posts. Evernote stores it all for you in one convenient desktop or cloud location. In addition to client projects, I keep separate Notebooks for each of my blogs, copywriting swipefiles, home improvement projects, journals and much more. You can edit, organize checklists and even attach pertinent documents to your Notes.
# 5 Share collaborative work. Evernote makes it easy to work collaboratively with features that let you share Notebooks with partners and co-workers.
# 6 Get a grip on Twitter. You don't need me to tell you that, without discipline—and organizational tools—Twitter can be a huge time suck. So I use Evernote to manage Twitter time and tasks. Each day I create a new dated Note into which I dump all the day's Twitter-related items: Tweets for reading later and my additions to retweets. Then, at intervals in my workday I check into Tweetdeck and Evernote—I keep these apps running in windows most of the time—to read and add tweets, click links and scan articles and posts. I use Evernote's Web Clipper to save posts for closer reading and sharing. As I write this, I realize Evernote lets me make a Luddite compromise on automated tweeting. (Don't judge me.) Evernote also automatically archives tweets for you: Simply type "@myen" anywhere in a tweet and Evernote stores it for you.
# 7 Get Things Done your own way. David Allen's Getting Things Done organizational system is a little complicated for me—but I do find his "Capture" concept brilliant. The idea is to get all your mental flotsam and jetsam out of your head and put it someplace else—on paper or your laptop. After performing this simple act, almost magically you find yourself less distracted, better able to focus and capable of staying on task. Evernote is the perfect "capture" tool for all your mental detritus.
Evernote's wrinkle
Evernote also instantly stores photos from your cell phone, archives voice notes and includes maps and geolocational capabilities I haven't begun to explore.
Is there anything Evernote doesn't do?
Well, yes.
Unfortunately, Evernote does not do a great job of explaining itself to non-digitally oriented civilians. Its explanatory videos contain more conceptual features and benefits than how-tos. And Evernote's "Help" and "Support" are buried on their site and limited to FAQs, a forum—my idea of Hell—and last-resort "support inquiry."
With its growing popularity—and user numbers—let's hope Evernote will soon add terrific phone support. Please, Phil Libin (Evernote's dynamic CEO)?
How do you use Evernote?
Have you tried Evernote? Another organizational system? What helps you "remember everything"?