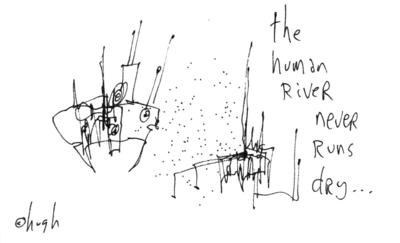 I come back again and again to the following resources:
Books
For my latest book recommendations, check out 25 Must-Read Best Copywriting and Marketing Books
On Writing Well by William K. Zinsser. A disciple of Faulkner's "kill your darlings" writing school, Zinsser sagely reminds you that "Writing is hard work. A clear sentence is no accident" and "Rewriting is the essence of writing well." Professor Zinsser's chapters on Simplicity, Clutter, Usage—every single chapter in the first half of the book, actually—are worth reading over and over and over and over.
Ogilvy on Advertising by David Ogilvy. Read it and use it. The late master adman's practical advice is as timely now as when he wrote it in the pre-Internet Dark Ages: Reverse type, caption-less photos and arty gimmicks still decrease readership and sales. Before-and-after-pictures, long copy and editorial layout still increase readership and sales.
The 22 Immutable Laws of Marketing by Trout and Ries. New marketing initiatives—relationship-building and permission-based—don't obviate the need for product differentiation and positioning. This book is a great crash-course in marketing for writers with journalistic and literary backgrounds.
Persuasive Online Copywriting by Bryan Eisenberg, Jeffrey Eisenberg and Lisa T. Davis. The authors of this book insist that online "users" are real people who want to buy stuff from your client's e-commerce website—and that your copy should help them. What a concept. Using principles from their Persuasion Architecture, the Eisenbergs show you how to craft copy that helps qualified buyers confidently click through your client's site.
Letting Go of the Words by Janice (Ginny) Redish. My current favorite of the gazillion e- and traditional tomes promising to demystify online content-writing. I read Ginny's book three times, and refer to its Post-it-marked pages continuously as I craft clients' website content. Here's the book's simple premise: People don't visit your website to hang out and read. They go to your site to get answers to questions and to complete tasks. Ginny helps you craft the concise, meaty content that your visitors crave. Her webpage classifications ("home," "pathway," and "destination"), clear writing style, and examples of online content make it easy to put concepts into practice.
The Copywriter's Handbook by Robert W. Bly. Bob Bly is a top direct mail copywriter, prolific author and godfather of the how-to-become-a-copywriter book genre. His Handbook tells you everything you need to know about writing brochures, newsletters, ads, feature articles and much more. Back in the day I started more than one project with five sweaty fingers on the keyboard and the other five clutching Bob's Handbook.

Back to the top
The Well-Fed Writer and The Well-Fed Writer: Back for Seconds by Peter Bowerman. Peter gives newcomers the nuts and bolts they need to start a freelance copywriting career. His books include advice on cold calls, time-saving organizational systems, self-marketing, project pricing as well as many helpful copy samples. Peter's The Well-Fed Writer: Back for Seconds is filled with straight-shooting advice particularly helpful to seasoned copywriters.
The Synonym Finder by J.I. Rodale
My blood pressure lowers noticeably when I open Rodale's The Synonym Finder. The battered book—this is the second hard bound edition I've decimated—signals I'm in the Deadline Home Stretch. The Synonym Finder is indispensable when your copy is at second draft and needs a final prune and polish.

Essays
Blood, Sweat and Words by Joseph Epstein
Epstein makes a case for grit: accepting that work—writing, painting, whatever—is a struggle. So just do it and shut up already, advises Epstein. Guess that puts the kibosh on several whiney posts I planned.
Write, Read, Rewrite. Repeat Steps 2 and 3 as Needed by Susan Sontag
You rewrite, notes Sontag, "…once, twice, as many times as it takes to get it to be something you can bear to reread." Oh, yeah.
Everything You Need to Know About Writing Successfully in Ten Minutes by Stephen King
Perhaps King offers comprehensive ten-minute writing advice because his first tip is "Have talent." Though you can read his spot-on suggestions in 10 minutes, implementing them will take longer.
Blogs
For my favorite writing blogs, see my Blogroll, right. But special mention goes to Brian Clark's Copyblogger, a blog that consistently delivers fun, useful posts, practical copywriting tips and entrepreneurial inspiration.
Among my favorite Copyblogger posts:
The Content Crossroads: Supernatural Success at the Intersection of Ideas
The Nasty Four-Letter Word That Keeps You from Writing
Why You're Too Qualified and Respectful to Produce Great Content
Copyblogger's How to Write Magnetic Headlines series
Human River cartoon courtesy of Hugh MacLeod of GapingVoid.