Attention copywriters: your career is deadly.
No, it's not the Recession. It's not brutal deadlines. It's not difficult clients, writer's block or social isolation.
It's sitting.
Study after study confirm that sitting is bad—very bad—for your health. In addition to putting you at risk for a range of diseases and conditions, sitting for long periods of time also (gulp) increases death rates.
Stand up for yourself.
That's the bad news, now the good: You can reduce health risks significantly by making a few changes in your daily routine: taking mini breaks, sitting on a stability exercise ball or—best option—working at a standing desk.
You stand in good company.
If you read tech and productivity blogs, chances are you've heard about standing desks. The waist-high tables and lecterns, however, weren't invented by hipster knowledge workers. They have a venerable history.
Nineteenth century office workers toiled at standing desks. Winston Churchill worked at a standing desk.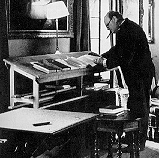 Charles Dickens wrote at a standing desk and so did Ernest Hemingway—though Papa seemed to lean more than stand.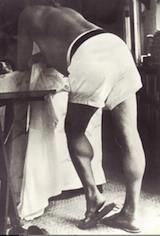 But if you're like me, the ghosts of statesmen and literary giants aren't enough to make you rise from your comfy, comforting chair.
I had to read the alarming facts—and learn I was a prime candidate for serious health problems: Until recently, I sat for eight and sometimes 10 hours a day.
My slide to hell began in a chair.
When I started copywriting 20 years ago, I worked part time. I sat at a desk for a few hours a day. The rest of my time was spent sprinting after my three young children. But as the adorable toddlers morphed into charming tweens and then into sarcastic, condescending, thankless more independent teenagers, my work became fulltime.
I spent increasingly long hours hunched in front of a computer, motionless. Sitting. And sitting. And sitting.
I didn't need an inactivity expert—yes, these medical specialists exist—to tell me sitting was unhealthy. Along with muscle cramps and lower back pain, I once pinched a neck nerve that required medical attention.
But the worst part? Weight gain. I'd been slender all my adult life. Now, without changing my eating or exercise habits at all, I'd packed on 15-20 pounds.
A spare tire and a big butt, however, should be the least of my worries—and yours.
If you sit, you're a sitting duck for health problems.
Bipeds aren't built to sit. We're genetically programmed to move around on our feet. Our bodies work best and last longest when we use our muscles and circulatory system—if not to hunt and gather, then at least to putter in the garden and play sports.
But evolution is a cruel jokester: Today, the more harried our lives, the less we move. And we pay dearly for our immobility.
Health risks associated with long-term sitting
Recent studies tell us:
Little movements make a big difference.
If exercise doesn't help, what does? Little things, say scientists: Small shifts in posture—stretching, shifting weight—and tiny movements such as tying your shoelaces, are enough to activate your body.
By far the best thing you can do for your health, however, is to stand while working. As you stand, your body makes constant, small movements and muscle adjustments that keep electrical and circulatory systems humming.
For the last month, I've been writing at a standing desk. I now stand for at least four hours a day while I work and am increasing my standing time incrementally. But the transition wasn't easy for me.
Six suggestions for standing desk success
The first few days at my standing desk, I was irritable and distracted. My legs and feet ached badly. But by trial and error, I found ways to make standing work easier.
Some of the following suggestions may also help you:
Ease into standing. Don't set unrealistic goals. Lasting habits form best slowly and incrementally. Try standing for half an hour—or less—the first day. Once you've worked up to an hour, stay at that level for a week. Then add half an hour. Now stay at that level for a few days before adding more time.
Work with your body's time clock. Start your standing work when your body feels rested and energetic. For most of us this is in the morning hours. I find it almost impossible to stand and work after eating lunch and in the late afternoon.
Stand for less focused work. In the beginning, I was unable to write first-draft copy—the part of my work that requires the most concentration—while standing. So I stood while working on less focused activities: Internet research, note taking, revisions, photo editing, email and social media.
Lean. If it's difficult to stand straight the whole time, do as Hemingway did: lean. Since your body is still shifting and moving minutely, you'll enjoy many of the benefits of standing.
Rest your foot or knee. This minor adjustment relieves a surprising amount of tension and strain. Some fancier standing desks have built-in footrests. Or you can improvise your own footrest with a box or low table.
Use a high stool. Nineteenth century offices often had high chairs or stools so workers could take a break from standing by leaning or sitting on a perched seat.
Find a standing desk that suits your taste and budget.
Once you decide to give standing desks a try, you'll find no shortage of options, from antique reproductions to Rem Koolhaas-style desk extensions. Here are some of my favorites:
A desk of one's own—the Virginia Woolf Edwardian standing desk from Stand Up Desks. I also love Stand Up Desk's Georgian model—with handy footrest—and their 3-in-1 Da Vinci, a $1,400 splurge.
Giraffe Desk, a handmade acrylic desk extension. The Giraffe Desk sits on top of your traditional desk, raising your work area to waist height. Available in two sizes to hold a desktop or laptop computer, paper and all the other detritus you need to work.
Treadputer. Exercise addicts will love this combined treadmill/computer set-up that lets you walk, jog or full out run while you work.
DIY standing desks. Not ready to shell out hundreds—or thousands—of dollars on a health experiment? You can easily rig your own standing desk from furniture and odds and ends around the house. Try putting your laptop on a low bookcase or—as I did, below—a rollout shelf. Place a table on top of another table—see my lectern-on-coffee table, below. Use an ironing board. Stack a series of boxes. For more DIY ideas, check out the slideshow at Dvice.com.
Still can't stand standing?
If you simply hate standing to work, at least try making healthier adjustments in your daily routine:
Exercise vigorously and regularly. Aerobic activity and weight-bearing exercise won't eliminate health risks associated with sitting. But exercise does improve your circulation, muscle tone and overall health—and perhaps makes it easier for you to attempt standing work later.
Take breaks from sitting. Use a timer or—my favorite—an hourglass. Once an hour, drag yourself away from the magnetic computer screen and stand up. Even if only for a few seconds.
Stretch. While you're on your feet, do some shoulder and neck rolls. Bend down and touch your toes and do some lateral leg stretches.
Sit on a stability ball. Instead of hunching over your desk in a traditional chair, substitute an exercise stability ball. Without being aware of it, you'll sit up straighter, use your stomach muscles and make countless minute adjustments that keep muscles active and heart pumping.
Avoid turning into "sitting meat."
According to writer George Pendle, Gustave Flaubert hated working on his feet. "One cannot think and write except when seated," Flaubert wrote to his protégé, Guy de Maupassant. "A civilized person needs much less locomotion than the doctors claim."
But Friedrich Nietzsche disagreed vehemently. Hearing of Flaubert's penchant for lounging on the job, Nietzsche declared the author of Madame Bovary a "nihilist…The sedentary life (das sitzfleisch—translated, "sitting meat") is the very sin against the Holy Spirit." (Presumably Nietzsche passed judgement before declaring God dead.)
May all of us be redeemed from das sitzfleisch.
References:
The New York Times
Scientific American
American Cancer Society
Diabetes Journal
Medical Billing and Coding