Packed shoulder-to-black-linen-clad-shoulder, we inched our way through the dungeon-like hall. Costumed mannequins stood like sentinels along the walls.
They wore moldering lace frocks bestrewed with dead flowers. Blood-red tartan over tattered tulle. Lobster claw shoes. And enough corsets, slave bracelets and Hannibal Lecter-style masks to keep bondage fetishists happy for a lifetime.
Wolves howled, fans blew and lights flickered.
Not your typical fine art museum exhibit.
But Savage Beauty was an exhibit. And it was at a fine art museum. And not just any fine art museum, but New York City's Metropolitan.
Mass appeal beyond the typical Met set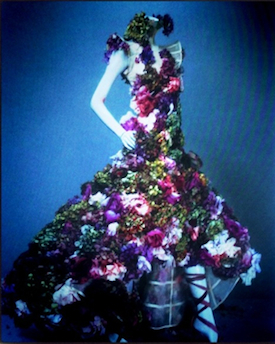 Last August, by the time we saw Savage Beauty, a posthumous retrospective of UK designer Alexander McQueen creations, the show had already drawn record crowds.
And the crush consisted of more than skinny fashion editors and the typical Met hodgepodge of art students, recent Seven Sister grads and tourists.

Savage Beauty was a hit across a large demographic swath. It pulled in over 660,000 visitors, driving 23,000 new museum memberships and selling 100,000 copies of the show's catalog and countless Savage Beauty souvenirs.
How did the fusty old Met—bastion of "safe" fine art and ladder for NYC social climbers—pull off this populist coup?
One word: Marketing. Bad boy designer clothes don't generally create clamoring mass-market crowds, six-hour wait lines and an endless stream of mainstream and digital PR buzz. Packaging and positioning by Met curator Andrew Bolton and the Met staff set Savage Beauty apart from other couture retrospectives.
Marketers of all stripes can take a lesson from the Met.
7 masterful marketing moves from a fine art museum
Marketing is historically anathema to cultural and non-profit organizations that benefit from higher-calling objectives: The Art or Cause alone, rather than crass commerce, supposedly speaks for the organization.
But savvy non-profit fundraisers know better. Cash flow is the lifeblood of the Art and Cause. While non-profit marketing tactics may be subtle and subliminal, they're highly seductive.
Want to succeed like Savage Beauty? You'll need to…
Create an astonishing product. Alexander McQueen—brooding artist, exacting Savile Row-trained tailor—and the late Gary Halbert—paunchy, baseball cap-wearing, American direct mail copywriter—had more in common than you imagine. "One of the biggest secrets of marketing, is sell stuff people want to buy," advised Halbert. While many would love to buy McQueen's clothing—and few can afford to—the Met was actually selling something more enticing: Access to the designer's inner life. For just $20—the price of the Met admission—we gained entry into McQueen's glamorous, titillating, imaginative world, with its themes of darkness and light, romance and sex, love and death, politics, history, myth and S&M. What a bargain.
Deliver a USP, that is, give your customers a unique experience. Something competitors can't provide. If you're interested in designer or period clothing, no doubt you've visited exhibits before and seen countless costumes swathed over mannequins. Yawn. Savage Beauty was another animal; this multimedia spectacle set itself leagues apart from other "fashion" and "costume" shows.
Tell a story. McQueen was a "great storyteller and most of his collections are based on narrative," noted Andrew Bolton. Take the designer's Widows of Culloden collection, for example, inspired by the final battle of Scotland's Jacobite Rising. The collection includes a body-hugging cream-colored gown with a curtain of delicate, webbed lace slung over the mannequin's face and antlers. Yes, antlers. Think the holly and the ivy. Think the running of the deer. Think enchanted Celtic princess—these were some of my thoughts. Surely other visitors conjured their own: McQueen's dresses, trousers, masks and shoes, like all great branded products, tell stories.
Tap into people's emotions. Every marketer knows that buying decisions are made on emotional impulse. Later, reason helps buyers rationalize the decisions, but logic is secondary to feeling in the marketplace. "I don't care whether people like or hate my creations—I want them to vomit when they leave," McQueen said. He designed his clothes to evoke a visceral, emotional reaction.
Use social media socially. Most arts and non-profit organizations now have social media accounts. But they often mishandle new media platforms, using old media tactics to barrage us with one-way broadcast messaging. Not the Met. Someone—a real person—actually keeps up his or her end of the proverbial "conversation." I tweeted my queries to the Met, and someone answered, prompting me to run—not walk—to see the show the next day.
Take advantage of scarcity. People perceive a product as more desirable—and move more quickly to purchase—when they believe the product is in short supply. This phenomenon holds true whether you sell $10,000 Hermes handbags or $10 Zhu Zhu Pets. The Met staff took advantage of the principle of scarcity in a number of ways: by positioning the show as a limited engagement, by blasting PR channels with updates on the show's record crowds, its multi-hour wait lines and finally, its "by popular demand" extended run.
Cross-sell. "Need" isn't the word that comes to mind when purchasing a Savage Beauty coffee table tome or miniature, resin-cast McQueen "lobster shoes." Not that need has anything to do with buying decisions—see #4, above. Visitors to Savage Beauty were funneled into the show's souvenir shop where, with Pavlovian predictability, we vacuumed shelves clean of their Savage Beauty merchandise. The Met marketers banked that we'd clamor for souvenirs as social objects that let us extend our experience and more vividly hold onto memories of McQueen and his world.
Et tu?
Obviously, I'm a sucker for The Met's marketing moves. What about you? Think you'd be hooked? And bigger picture: Would any of the Met's marketing tactics work for your business or non-profit?
Photo courtesy of Robert C. Madrugo