You know the drill.
Identify your customer's needs. Find your user's pain points. Uncover your audience's core desires.
These imperatives form the foundation of great content marketing.
They support each step of your content research and strategy.
They illuminate every word of your copy, helping you create ridiculously good content that builds audience, supports brand, boosts leads and drives conversion.
But crucial as they are, audience's needs are often ignored by marketers.
And when you think about it, it's not so surprising.
Uncovering Audience Needs: You're Entering a World of Pain.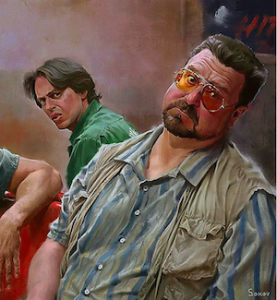 Audience research is hard work. It takes time. Resources. Imagination. You have to connect facts and figures to feelings and behavior. Translate humdrum information into the drama that fuels your customer's day.
But there's good news. A simple, step-by-step psychological theory makes the work easier. And faster than you ever dreamed possible.
Maslow's Memorable Pyramid
You may remember Abraham Maslow's Hierarchy of Needs pyramid from college Psych 101. It's the only psychological theory that comes with its own color-block cartoon: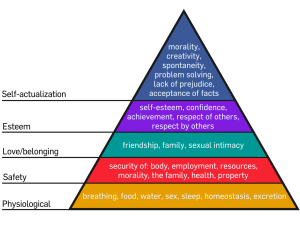 But the theory is more than a cute psychographic. It's a powerful marketing prompt.
Examining your audience—your customer, your client, your donor, your site visitor—through Maslow's lens lets you instantly reframe dry data.
Maslow's Hierarchy transforms boring info into amazing, emotionally-resonant audience insights.
5 Easy, Actionable Ways to Power Your Content Marketing with Maslow's Hierarchy
I'll give you a quick refresh on Maslow's Hierarchy and its stages in just a sec. But first, take a look at some of the ways this scientifically-proven theory takes your content marketing to the next level.
Maslow's theory can help you…
Target the right customers for your product
Create compelling audience personas that support content creation
Develop pitch-perfect copy that speaks engagingly and persuasively to your audience
Customize action-driving content for each stage of the Sales Funnel/Customer Journey/Trust Continuum
Optimize content for usability, readability and conversion
Don't be put off by the word "theory." Maslow's pyramid is imminently practical. It's easy to grasp and it's simple to put into action.
Required reading for training and development leaders, Maslow's Hierarchy is also frequently used in management circles. But Maslow's positive, humanistic psychology was not always so widely accepted.
Abraham Maslow = Dr. Glass Half-full
The world's first psychoanalysts held a pessimistic view of humankind. Freud's theories rested on the existence of the Unconscious. These buried feelings, thoughts and urges, according to Freud, fueled dark "instincts," that essentially render people powerless over their lives.
Maslow's psychology was sunnier.
Accentuate the Positive
While Freud explored neurosis and pathology, Maslow studied health and well-being.
The Brooklyn-born psychologist focused on human strength and resilience. Our ability to improve ourselves. Our yearning to reach our fullest potential and become our best selves.
Maslow believed our ultimate need is "self-actualization", the ability to live productive lives, cultivating our innate capabilities and talents.
In studying the psychological nuts and bolts of human happiness, Maslow envisioned a hierarchy. He believed people move toward self-actualization in steps or stages.
And he saw that distinct needs must be met at each stage—before a person can progress to the next stage.
Maslow's 5 Stages of Human Need
In 1943, Maslow published A Theory of Human Motivation, identifying the following five stages of need:
Physiological and biological needs like food, water, air, shelter, sex and sleep;
Safety, security, stability and the need for order;
Love, belonging and friendship;
Esteem, achievement and independence;
Self-actualization, the desire to reach one's fullest potential.
How do these needs relate to your work as a copywriter and content marketer?
Discover 5 Easy Ways to Transform Content from Blah to Brilliant
Including Maslow in your content marketing mix lets you…
1. Target the right customers for your product.
Today you face the most competitive, product-flooded marketplace in human history. Casting a wide net—indiscriminately marketing to anyone and everyone—pretty much assures you'll catch no one.
To assure success, you need to home in tightly on exactly the customer most likely to buy your product. And create useful, relevant content for her alone.
But who is she? How can you find her? What connects the dots between her needs and your product value?
Maslow's theory provides an easy-to-follow blueprint. Take a look at some brands that successfully align Unique Value Propositions (UVP) with fundamental human needs—and instantly target their most lucrative customers.
Tesla
Carmaker Tesla aligns its car's green UVP with people's basic need for breathable air—among the first of Maslow's needs.Tesla also taps into morality and problem-solving, aspects of self-actualization—Maslow's fifth stage. Emission-free, electric cars speak powerfully to eco-conscious consumers who fervently believe an unpolluted biosphere—for themselves, the next generation, the planet—to be humanity's most pressing issue.

How successful is Tesla's targeted? Check out this block-long line of customers who camped out overnight to put down a $1,000 for the promise of an automobile that doesn't yet exist:
Luxury fashion brands
Brands like Givenchy, Saint Laurent and Hood by Air appeal to luxury fashion lovers who buy into subliminal messaging that clothing, like the Givenchy signature Rottweiler T-shirt priced at $685, confers membership in an exclusive tribe—Maslow's third stage. Unique designer clothing also plays into people's desire to express themselves creatively, a form of self-actualization—Maslow's fifth stage.
Nike
Nike's ongoing campaigns, all circling back to the brand's "Just do it" self-empowerment theme, target people who see fitness as a form of self-respect and self-esteem—Maslow's third stage.
#1 Takeaway: Nail down your UVP. Then study Maslow's pyramid to identify the need—or needs—that aligns most pressingly with your UVP.
2. Create compelling, fully human audience personas.
Fully dimensional audience personas are one of the most powerful tools in your content marketing kit.
Personas represent key segments of your audience. When you humanize these models, you'll find it much easier to identify content marketing goals, prioritize messaging, create customized content tools and more.
Maslow's theory imbues personas with truth, humanity and nuance. By connecting demographics, analytics and factoids with Maslow's needs, you're free to think expansively and imaginatively about a persona's inner lives and daily habits.
Among the questions you may ask and answer: "How do my persona's needs align with my product's solutions?" "Which of my persona's needs are most pressing?" "Does the need drive action?" "How will my persona's needs change?" "How can I create content that supports every stage of her journey?"
Here's an audience persona that weaves in Maslow's theory: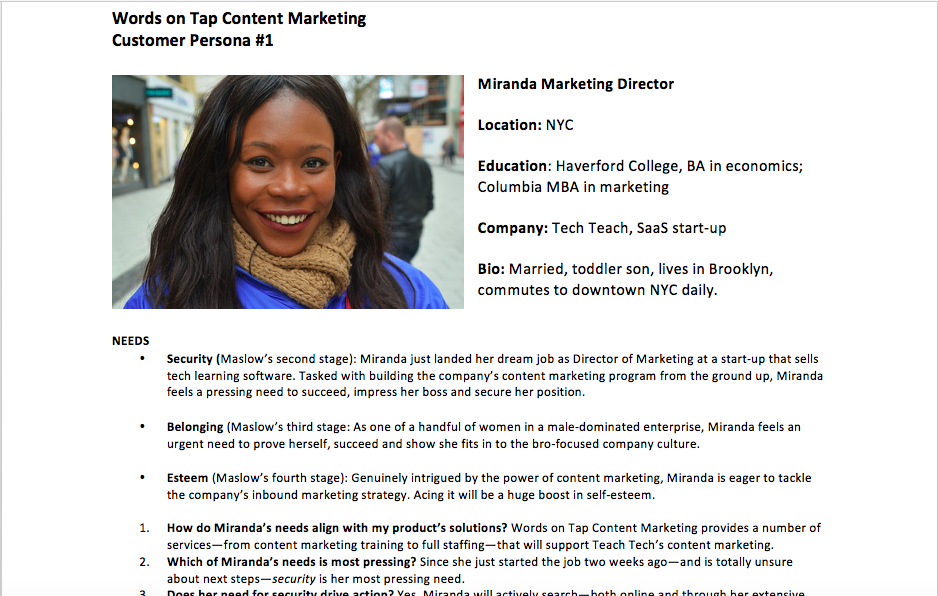 #2 Takeaway: You need more than demographic data to create useful audience personas. To humanize a persona, align quantitative info with Maslow's qualitative needs.
3. Develop pitch-perfect, action-driving copy.
If you've crafted an emotionally resonant, human persona, 90% of your conversational copy creation is done.
Why?
Because now your copy speaks to one person, rather than a demographic pie slice.
Because you understand your customer. You know her pain points and vulnerabilities. Her hopes and dreams. Her yearnings and needs.
Because you've come to believe that copy is not a monologue. It's a conversation. And the convo begins from a place of empathy.
Since you empathize with your customer, you don't use words like "leveraging sticky content solutions." Or "user-friendly engagement learnings."
You talk like your customer talks.
And so does your copy.
BTW, effective conversational copy doesn't always require long-form format.
Take a look at fashion brand Reformation's email below. For this campaign, the brand used one of its signature short, cryptic subject lines, "Cool dress, Mom."
Intrigued readers opened the email to find the image of a breastfeeding mom and a Mother's Day greeting that perfectly targets their hipster, fashion-forward audience.
The image and simple copy went viral on Instagram, garnering almost 10,000 Likes and 500 comments.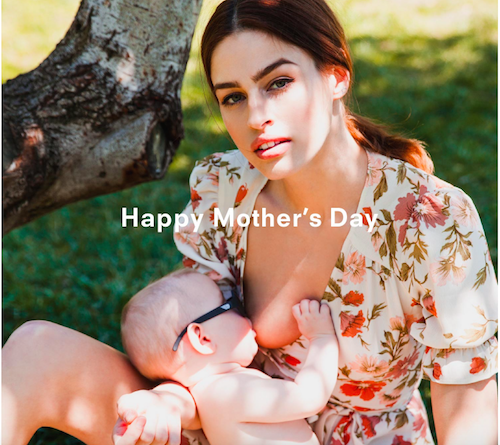 #3 Takeaway: Great copy speaks to one person, not a crowd. Maslow's hierarchy helps you pinpoint needs that make audience personas human—and imbue copy with a warm, empathetic, conversational tone.
4. Customize content for each stage of the Sales Funnel/Customer Journey/Trust Continuum
Top-of-funnel, relationship-building content is a different animal from end-of-funnel copy optimized for UX and conversion.
To most effectively achieve business goals, tailor content for each step of the Sales Funnel/Customer Journey/Trust Continuum.
Start by using Maslow's Hierarchy to identify your customer's most pressing need. Then dig deeper.
Ask yourself, "Does my customer's most urgent need require her to take action now?" If yes, she's likely moving toward the end of the sales funnel.
If immediate action is secondary or optional, she's probably further up the sales funnel.
Say you're a hotel brand, targeting business travelers with cancelled flights.
If you weave Maslow's Hierarchy into content planning, you understand human beings' deep-seated physical and emotional need for shelter. It sits on the very first stage of Maslow's pyramid.
A cancelled connecting flight, and being stranded in a strange airport, magnifies anxiety.
In this instance, the pressing need requires the customer to take immediate action. This knowledge helps copywriters draft pitch-perfect banner copy that drives action.
Look at performance marketers' iProspect's highly effective campaign:
#4 Takeaway: The urgency of your customer's most pressing need helps identify her place in the sales funnel. This knowledge makes it stupid easy to create content that's relevant and useful to her.
5. Optimize content for usability and conversion.
Want an easy-to-use checklist that helps you optimize copy format? A simple way to tick off mandates of usability and persuasive copy structure?
Copywriter Will Hoekenga provides it with a copywriting frame based on Maslow's pyramid.
Will's first stages focus on technical basics, Maslow's first stage: Your copy must be readable. It must be written in the language your audiences speaks. It should be typo-free.
One step up in the hierarchy, Will focuses on formatting. He shares tried-and-true rules of text organization that optimize your content for scanning, readability, flow and conversion. Will suggests you…
Craft attention-grabbing headlines and subheads—and format them in bold font.
Make copy easy-to-read, using short sentences and lots of white space.
Use bullets and numbered lists to draw and direct the reader's eye and mind.
Add variation to stand out in a textual "sea of sameness": add italics, use numerals instead of written numbers, vary sentence length.
With copy's basic font and formatting issues addressed, Will goes on to tackle copy's "higher needs." Read Will's whole Copywriting Hierarchy of Needs post.
#5 Takeaway: Highly effective content requires attention to the medium—formatting, copy structure optimized for usability—as well as the message. When drafting copy, take advantage of Maslow's "first things first" needs hierarchy to assure you've covered crucial copy basics.
More Ways to Unleash the Power of Maslow's Hierarchy
Once you make Maslow's theory part of your content marketing practice, you'll find endless ways to use it. One marketer employs it to improve email campaigns. Another to dramatically enhance SMS messaging.
How Will You Use Maslow's Hierarchy?
What about you? Can you apply Maslow's Hierarchy to your content marketing and copywriting? Would love to hear from you in comments.
---
Image of Maslow's Hierarchy of Needs Pyramid courtesy of Wikimedia.
Image of Walter in the Big Lebowski, courtesy of Chris Lexow.
Image of Miranda Marketer, courtesy of Pixabay.