If you're active in the Twitter community, you delight in the Tweetstream's flood of information, entertainment, gossip and debate.
But you know you can also drown in the data deluge.
No way can you read every Tweet coming down the pike—let alone click through links to all posts, videos or articles.
I cope by dipping into the Tweetstream and "favoriting" tweets that catch my eye. Later, when I have time, I click through to read, watch, hear and comment.
Of 2009's gazillion Tweets and links, I've culled 100 to re-read and share in the New Year:
Writing and Blogging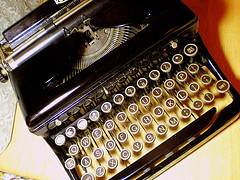 Twitter/Social Media

Internet Marketing/Branding/SEO

Work and Productivity

Stand and Deliver

YouTube/Videos

WordPress/Coding/Design

News/culture

Technology

Food

In its Own Class
Please add your own favorite Tweets and links in my comments.
Vintage typewriter photo courtesy of Confections; Twitter Bird photo courtesy of Amy Gurumi; Stack of 100 dollar bills courtesy of amagill; Factory girl photo courtesy of the Library of Congress; You Tube photo courtesy of Osmario Marques; President Obama photo courtesy of afagen; IPhone photo courtesy of Shuffle Art; Question Mark photo courtesy of Segozyme